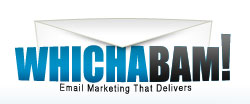 Frequently Asked Questions
Do I have to download or install any special software to use WHICHABAM!
No! The only software you need is an internet browser.
Are there any contracts or obligations when I sign up?
There are no contracts with WHICHABAM! After paying the initial setup fee, all we ask is for a 30 day notification of cancellation. The monthly fee is applicable until cancellation regardless of whether you send email.
What is a WYSIWYG HTML editor and how does it help me?
WYSIWYG stands for What You See Is What You Get, and it enables you to edit your newsletter in real time – you are actually editing the newsletter in the same format and visual style as you intend your subscribers to see it. No HTML or code to edit (unless you want to!). This is the most user friendly method available to you!
Are there any pre-built newsletter concepts included in my account?
Yes. When you login to your account you will see 100's of templated designs that you can use for your newsletter service. If you require any custom work we can help you out. Just contact us and we can gather your requirements and design something specifically for your needs.
Is it possible to create personalized emails? (ex. 'Dear FIRST NAME'?)
Yes. WHICHABAM! uses what we call "Custom Fields", and you can have as many as you need! For example, you can have a custom field called 'First Name'. To insert a custom field into a newsletter simply click the "Insert Custom Field" button below the WYSIWYG editor, select your custom field, and it will appear in the editor. For the custom field First Name it will appear in your newsletter like this: %%First Name%%. Then, when you send your newsletter, WHICHABAM! automatically replaces the custom field with your contact's first name! In fact, using this technique is strongly recommended to help defeat spam filters, because each newsletter appears different to email servers!
Can't I just buy a CD with 30,000,000 email addresses on it and send my newsletter to them?
If you value and cherish your online reputation, this is not recommended and violates our
Terms Of Use
. ALL contacts are required to be double opt-in as per your User Agreement. That means you must send a verification email to ensure it is valid and the user must expressly ask for the newsletter to be sent to them. Doing something like this will likely brand you and your company as a spammer and have the exact opposite effect a good email marketing campaign can have, which is drive new customers to your business and keep existing customers informed about your business. It will also likely damage the reputation of WHICHABAM!'s email server, which you will be responsible for!
Are my contacts and contact list private?
Yes, only YOU have access to your contacts and contact lists. Other clients cannot see yours and do not even know they exist. Similarly, you cannot see anyone else's contacts and lists other than your own.
Can I have a developer design a custom template for my newsletter?
Sure. Using custom templates is easy once you get to know how to design them. Technical information is available to your designer to assist, and of course, we're always here to help you. You can also choose to use our own Custom Template Design Services. Just drop us a line or call us.
I get a lot of spam that goes directly into my Junk Folder. How do I prevent my email marketing campaigns from going directly into someone's Junk Folder?
There is no guarantee which, if any, mail servers will file your campaign emails into Junk Folders. But there are several things that you can and MUST do to minimize this. Examples include:
Ensure you are only ever sending to a double opt-in recipient.
Remove email addresses that you receive a bounce message for immediately
Remove email addresses of recipients who have requested to be unsubscribed immediately and never email them again unless they expressly subscribe again.
If you are sending HTML emails (of course you are, you want them to look GREAT!), make sure you send the plain text version too – and make sure the content of the HTML and text versions match up.
Use the Spam Checker tool to check your spam score, and never send out a newsletter that fails that test. If it's green, you're email is seen! If it's red, your email is dead!
Enforce your frequency and subject matter! If people sign up for a monthly newsletter about Topic One, send only newsletters containing that topic, and only once a month! This is very important! If people start feeling like they are being sent something they didn't ask for, they will flag your email as spam and damage the reputation of your campaigns with that mail server. If that mail server is Hotmail, Live, Gmail or Yahoo, you have a problem that is difficult or impossible to fix.
WHICHABAM! Features
100´s of Design Templates
Split Test Email Campaigns
SPAM Verification
Send in Minutes
[More...]
Testimonials

Wow is all I can say! I have used other industry leading email marketing software packages but none have provided me with the features, service and safe sending rate that WHICHABAM! has. I am truly thrilled with the response I am getting from my campaigns. Comparing the results of our campaigns with WHICHABAM! to the others isn´t even moderately comparable. If you want results, I highly recommend giving WHICHABAM! a try. - Troy Weston - WestLists Company


I have been using email marketing software since the late 1990´s. No email marketing product in the industry comes close to providing the combination of price and measurement capabilities as WHICHABAM! Not only is the service the best in the business hands down, but I truly appreciated the stringent application process which confirmed the attention this company pays to quality clients and email delivery. This is the best email marketing program I have ever seen. - Danielle Demerino - Real Estate Talk