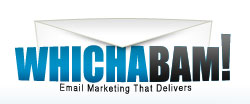 About WHICHABAM! Create. Send. Measure. Profit!
It starts with WHICHABAM! Email Marketing Software - all the tools you'll ever need to keep in touch with new prospects and previous customers, and turn leads into new ones FAST!.
Affordable - WHICHABAM! is priced to put you in touch with new customers and build loyalty with existing customers.
Easy To Use - The WHICHABAM! user interface is intuitive, and very easy to use, organized into functional sections that have you sending professional-looking emails in no time.
Complete List Management - easily import, sort, segment, export, and manage all of your contacts in an easy-to-use interface. WHICHABAM! is a built-in CRM!
Full Campaign Statistics - find out how many people opened your email, and follow up with those who did.
Completely Browser-based - no software to install. If you can open a browser and type, you can use WHICHABAM!
Intuitive WYSWIG editor - See your email the way your customers and leads see it, while your editing!
Split Test Your Campaigns - send different variations of your message to different segments of your contact lists and find out what works!
Spam Checker - use our built-in tool and keep your emails going to the INBOX, not the Junk Folder!
Email Client Check - see what your email is going to look like in all the popular email programs, like Gmail, Yahoo, Live, Hotmail and Outlook.
Google Analytics Friendly - integrate your Google Calendar by sending contacts to your calendar for follow up appointments. Add Google Analytics and manage your ROI – know what works and what doesn't work.
Custom Templates - when our large selection of professional templates aren't enough, design and upload your own. Or have us do it for you! Our team can design a branded template that can help improve your open and click-thru rates.
WHICHABAM! is a
TechWyse company
. With a concentrated
integrated internet marketing
approach, WHICHABAM! is just one of the services offered by TechWyse that can bring
relevant traffic
to your online brand.
WHICHABAM! Features
100´s of Design Templates
Split Test Email Campaigns
SPAM Verification
Send in Minutes
[More...]
Testimonials

Wow is all I can say! I have used other industry leading email marketing software packages but none have provided me with the features, service and safe sending rate that WHICHABAM! has. I am truly thrilled with the response I am getting from my campaigns. Comparing the results of our campaigns with WHICHABAM! to the others isn´t even moderately comparable. If you want results, I highly recommend giving WHICHABAM! a try. - Troy Weston - WestLists Company


I have been using email marketing software since the late 1990´s. No email marketing product in the industry comes close to providing the combination of price and measurement capabilities as WHICHABAM! Not only is the service the best in the business hands down, but I truly appreciated the stringent application process which confirmed the attention this company pays to quality clients and email delivery. This is the best email marketing program I have ever seen. - Danielle Demerino - Real Estate Talk